The Willington Waggonway
"... an incredibly important and rare find..."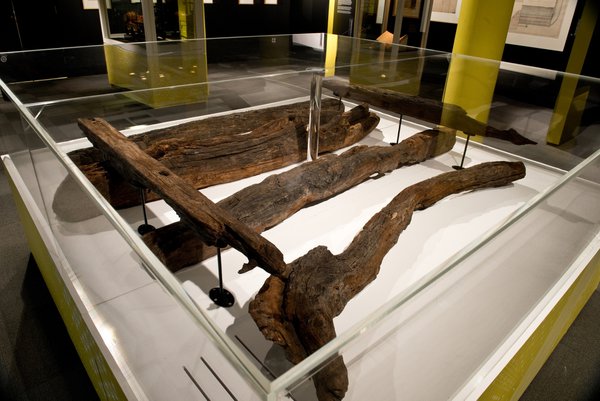 In the summer of 2013, the remains of a section of the Willington Waggonway were discovered during archaeological investigations at the former Neptune Shipyard in Walker, North Tyneside. It was quickly realised that the discovery was of international significance as it was the most complete and best-preserved section of early wooden railway to have been found anywhere in the world. It was also the earliest railway yet discovered which was built to what became the international 'standard' gauge (4'-8½" or 1435mm), firmly linking the waggonway to Stephenson and the development of modern railways.

Fortunately, Arts Council England (ACE) stepped in with its Preservation of Industrial and Scientific Material (PRISM) Fund, enabling Tyne & Wear Archives & Museums (TWAM) to save and preserve as much of the Waggonway as possible. ACE awarded further funding in 2016, through the Designation Development Fund, for the Willington Waggonway Research Programme. The project is a foundation for progress towards the potential full-scale reconstruction of the remains of the Willington Waggonway for display at Stephenson Steam Railway.
Although a significant portion of the waggonway was saved and preserved, there are still 50 timbers which have been rescued but require preservation treatment. A further £5,000 is needed so these timbers can undergo treatment before they deteriorate past the point of saving.
"Two hundred years ago waggonways were cutting edge technology which allowed the fast movement of coal, attracted industrial spies and put the North East on the world map. The waggonways were so distinctive and innovative that the rest of the world were keen to learn our secrets. The Willington Waggonway is an incredibly important and rare find which is enhancing our understanding of the North East's industrial heritage and the development of the modern railways we use today all over the world. Without additional funding to secure the future of the remaining timbers, part of something very special will be lost forever." – Dominique Bell (Project Co-ordinator, Willington Waggonway Research Programme).
Be part of an incredible story – a once in a lifetime opportunity to help preserve part of the North East's unique railway heritage.

TWAM have launched a Willington Waggonway Appeal to try and save these remaining timbers. If you would like to help secure this important part of the heritage of the North East for future generations, you can donate here