About Stephenson Steam Railway
Join the railway revolution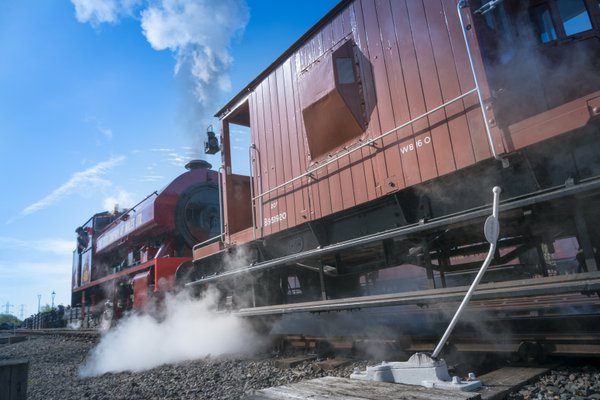 Travel back in time to when coal was king at the Stephenson Steam Railway. Take a trip on our 2 mile industrial railway, passing the factories and businesses that it once served. Ride in style in our 1950s British Railways carriages and listen as the locomotives work hard climbing the steep gradients away from the Tyne towards the old coal fields of Northumberland.
In the station yard at Middle Engine Lane, you can see a large variety of wagons and rail vehicles that were once a common sight on the railways of Tyneside. Inside the museum, explore a range of steam, diesel and electric locomotives that each have a fascinating story to tell. Visit the cab of Clio or try your hand at driving a steam engine on our simulator.
Learn about George and Robert Stephenson and their influence on the development of the steam locomotive through animations and artefacts from the time. On selected days, you can enjoy light refreshments in the Waggonway Tea Room.
Stephenson Steam Railway is managed by Tyne & Wear Archives & Museums on behalf of North Tyneside Council.
What can you see at Stephenson Steam Railway?
Inside the museum, you can see:
The early locomotive 'Billy' - built in Newcastle around 1816 and used for hauling coal. The world's third oldest surviving steam locomotive.
Steam, Diesel and Electric locomotives from collieries, steelworks and power stations in Tyneside and beyond from as early as the 1880s.
Tyneside Electric Parcel Van - built in 1904 and beautifully restored at the museum in the 1980s, it is the only surviving vehicle from the Tyneside Suburban Electric Railway.
Harton E4 - an electric locomotive built by Siemens in 1909 for an extensive colliery railway system in South Shields.
Displays detailing the story of railway pioneers George and Robert Stephenson.
Outside the museum, in the yard, you can see:
A variety of railway vehicles which were used for all manner of jobs in days gone by. On days when steam trains are running, be sure to visit the water tower to see the fireman filling the tanks with water whilst the driver oils around all of the moving parts of the engine.
Coal hopper wagons - Used extensively on Tyneside up until as late as the early 1990s
Oil tank wagons - This type of wagon would have once been a common sight as they travelled up and down the line to the Esso Oil Terminal at Percy Main.
T.I.C Bolster - This wooden wagon was used at the Tyne Commission Quay where the Royal Quays now stands.
Stock list
Steam:
Stephenson's 0-4-0 tender locomotive 'Billy', 1816
Peckett 0-6-OST Ashington No. 5 'Jackie Milburn', 1938
Bagnall 0-6-OST 401 'Sir Thomas Burt' / ex 'Vulcan', 1950
Robert Stephenson Hawthorn 0-6-OT No 1 'Ted Garret JP MP', 1951
Kitson 0-6-OT 'A No.5', 1883
Diesel:
Consett 0-6-ODM No. 10, 1958
Ex BR 0-6-0 DE class 08915, 1950s
Ex BR 0-6-0 DM class 03 D2078, 1950
Electric:
Siemans Bo-Bo E4, 1909
NER Baggage / fish van No 3267, 1904
Carriages:
Ex BR Kings Cross outer suburban MK1, 1950s