Our collections
Billy - the world's third oldest locomotive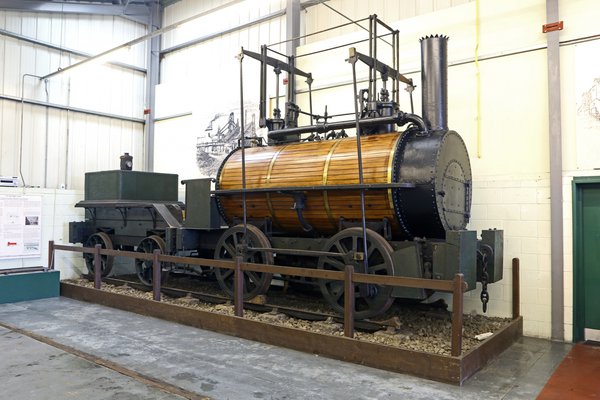 A recent archaeological survey carried out on Stephenson Steam Railway's star exhibit, Billy, reveals that the locomotive is even older than previously thought. The report, produced in March 2018 by early railway experts Michael Bailey and Peter Davidson, concludes that Billy was built in 1816, not 1826, and establishes the locomotive as the third oldest surviving locomotive in the world.
Billy was initially fabricated and assembled at Killingworth Colliery's West Moor workshops under the supervision of George Stephenson, about four miles from Stephenson Steam Railway in North Shields. The engine was used to haul waggons carrying coal from Killingworth Colliery to the River Tyne. Although none of Billy's surviving components can be traced back to 1816, it has features that, despite being later replacements, provide a clear footprint of the original; primarily it retains the same standard track gauge set by George Stephenson at that time (4ft 8½in), and also the distance between the two cylinders and the axles presents a unique identifier. Billy is now determined to be the world's oldest surviving standard gauge steam locomotive. Built thirteen years before the more famous Rocket, this was one of the most innovative transport systems of its day.
Early locomotives like Billy were called 'travelling engines' because they were mobile versions of the steam engines used at mines. George Stephenson built his first locomotive in 1814 at West Moor, near Killingworth, where he was a colliery engineer. It was similar to engines pioneered at Leeds in 1812 and tried near Newcastle the following year. Other locomotives were being built on Tyneside around this time, and Stephenson used his practical skills to combine the best ideas into his 'Killingworth travelling engines'. Billy was one of the last of the type to be built.
A section of the line where Billy worked is preserved as the Bowes Railway at Springwell Village near Washington, Tyne and Wear.
​Locomotive NTR No. 1 Ted Garrett JP, DL, MP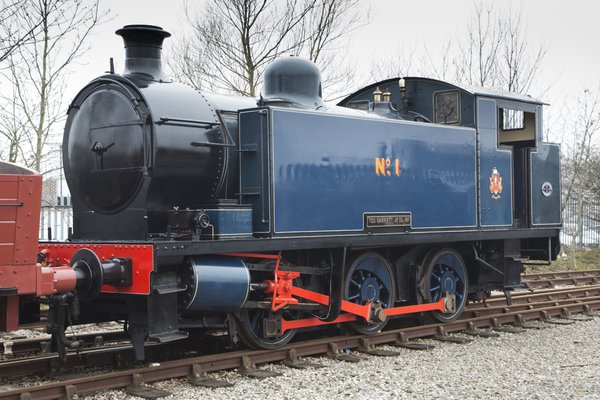 Locomotive NTR No. 1 Ted Garrett JP, DL, MP
Several locomotives were built at the Forth Banks Works in Newcastle in the early 1950s for shunting at power stations. They were used to move coal wagons into a power station from nearby railway sidings. This was because the locomotives which brought heavy coal trains from the collieries were too large to use the tracks around power stations.
Locomotives at power stations had to move heavy loads over short distances, so they have small wheels. Larger-wheeled versions of the same type were built for longer journeys, for example around the collieries at Ashington, Backworth, Stanley and Consett.
NTR No. 1 was purchased for the museum in 1996, and in May 2000 it was named after Ted Garrett, who was the Member of Parliament for Wallsend between 1964 and 1992.
Blyth & Tyne Railway Locomotive Cab
Built in 1867, the Blyth & Tyne Railway Locomotive cab is the only surviving part of a Blyth & Tyne Railway locomotive. It was made in the Railway's works at Percy Main, two miles south of this museum.
The cab was used on two different locomotives from 1867 until 1955, when it was preserved. This exhibit is on loan from the National Railway Museum.
Electric Motor Luggage Van No. 3267
Local train services experienced fierce competition from electric street tramways in the early 1900s. To win back passengers the North Eastern Railway introduced a frequent service of fast electric trains between Newcastle and the Coast in 1904. It was the first time that electric trains had replaced steam trains on a main-line railway, and this exhibit, built in 1904 at York by the North Eastern Railway, is the only survivor of the original fleet of vehicles.
Luggage Vans were used for 'sundries' traffic. They ran at passenger train speeds, carrying parcels and other items which were too urgent, valuable or perishable for the goods trains of the time. They were powerful enough to haul several other vans. A ventilated compartment at one end was used to move boxed fish from Cullercoats and Tynemouth stations.
The original Luggage Vans remained in service until 1937, long after the passenger vehicles had been replaced. Their motors were removed and they were converted to spray antifreeze mixture onto the 'third rail', a live rail at the side of the track which supplied electricity to the trains.
This exhibit is on loan from the National Railway Museum.
Consett Iron Company Locomotive A No. 5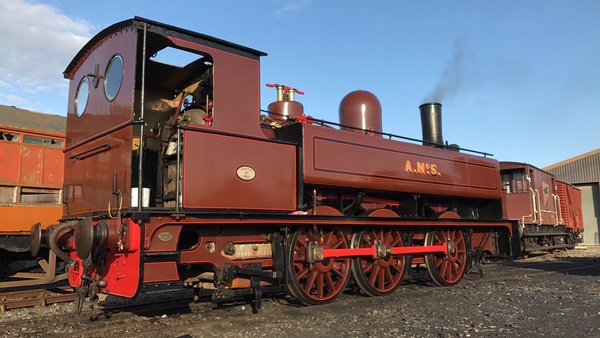 A No. 5 is the only working example of an innovative Robert Stephenson design patented in 1841, the 'long-boiler' locomotive. This improved efficiency without making the locomotive too long.

A short wheelbase was important in the 1840s so that locomotives could use the small turntables of the period to turn round at the end of each journey. However, short locomotives are prone to lurch from side to side at speed. They were soon confined to slower trains, but their ability to travel round sharp curves in collieries and iron works ensured that they remained popular in north east England.
The Consett Iron Company started using this type of locomotive in 1872, and bought its last one in 1941. As the largest engines in the company's fleet they were known as the 'A' class.
A No. 5 was built in 1883 at Leeds by Kitson & Company and passed to the National Coal Board when the company's pits were nationalised in 1947. When it was eventually pensioned off in 1968 the locomotive was a combination of parts from at least three of similar type.
Steam Locomotive No. 401 Thomas Burt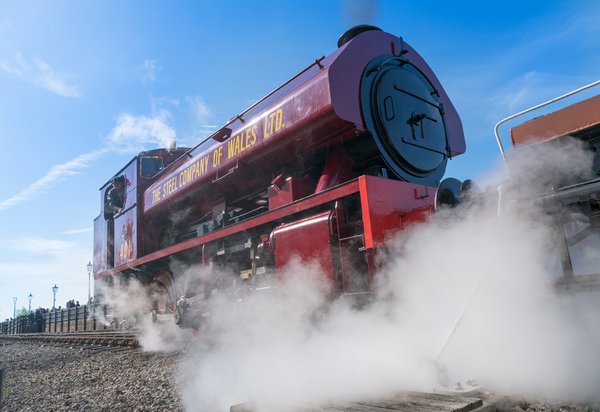 This locomotive was one of three built in 1951 at Stafford by W.G. Bagnall Ltd for the Steel Company of Wales to see if steam engines could be as effective as diesels. Steam engines were less expensive to buy, and coal was cheaper than oil fuel, but diesel locomotives could operate for much longer periods without major servicing.
Many advanced features were included in the design to reduce servicing time and increase reliability. The locomotives were able to work continuously for up to three weeks, with breaks only for loading coal and filling the water tank.
Also known as Vulcan, No. 401 worked at the Margam steel plant in South Wales until late in 1957. Although the design was working very well, the falling cost of oil relative to good quality coal meant that diesel locomotives had become much cheaper to use.
Still nearly as good as new, No. 401 left Wales for Birmingham to work for a few years at the Austin car factory at Longbridge, where there was an internal railway system. After a period of running at the West Somerset heritage railway, the engine was acquired by TWAM for Stephenson Steam Railway in 1986, where it remained in regular use until December 2008. Problems with its firebox led to the locomotive being placed on static display within the museum. A six year restoration project saw No. 401 return to service, hauling passenger carriages, during Easter 2019.
This locomotive is named after Thomas Burt, a miners' leader from Northumberland who in 1874 became the first working man to be elected as an MP.

Locomotive Ashington No. 5 : Jackie Milburn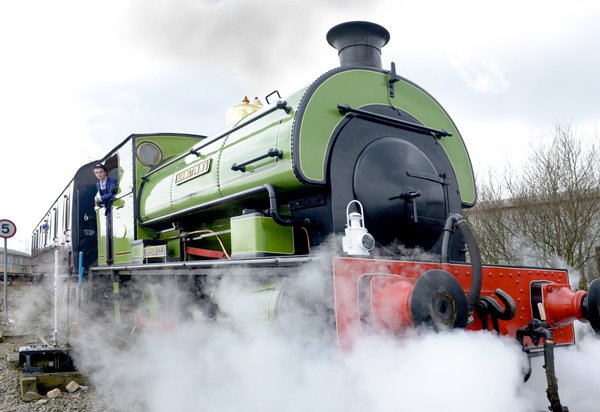 This steam locomotive was built for the Ashington Coal Company in Northumberland in 1939 by Peckett & Sons, Bristol. The Ashington Coal Company had one of Britain's most extensive colliery railways. For 30 years it hauled wagons of coal from the company's pits, and also passenger trains for the miners.
By 1970 diesel locomotives were replacing steam, and Ashington No.5 was sold by the National Coal Board to the North Norfolk Railway. In 1991 it was acquired by Stephenson Steam Railway and was given the additional name of Jackie Milburn in honour of the great Newcastle United footballer who grew up in Ashington.
It is known as a 'saddle tank' locomotive, because it carries water in a curved tank which fits over the top of the boiler. Its coal supply is in a bunker behind the cab.
Diesel Locomotive No. 10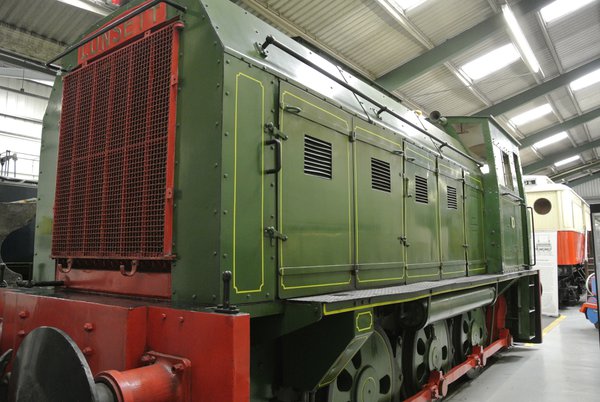 This locomotive was one of two built at the Consett steelworks in County Durham in 1958, to move very heavy loads, including large wagons of molten metal.

The Consett works' first diesel locomotives arrived in 1947, and several types were bought from specialist locomotive builders. None of them was suitable for the heaviest duties in the steelworks, so the company decided to build two locomotives in its own workshops. Since the earliest 'travelling engines' of George Stephenson, colliery and industrial railways in the north east had often built their own locomotives. No. 10 was to be the last of these.
The design is based on engines built by the Hunslet Engine Company of Leeds. Only the power unit and wheels were bought in; everything else was either recycled from old locomotives or made in the workshops. No. 10 is extremely sturdily built – look at the thickness of the red-painted steel buffer beams at front and rear.
No. 10 was donated to Tyne & Wear Museums by the British Steel Corporation in 1976. The Consett steelworks closed down in 1980.
Tyne and Wear Metrocar Cab
Built about 1978 at Birmingham by Metro-Cammell Ltd. In the 1950s and 60s travelling around Tyneside was becoming a nightmare. Roads were congested with traffic, and fewer people were using the trains because they were old, unreliable, and they did not reach the centres of Newcastle and Gateshead. Many stations were run-down or a long way from people's homes. Public transport was not user-friendly.
Between 1974 and 1984 the Metro, a modern light railway system, revitalised Tyneside's transport network. Tunnels were built so Metro could bring people within easy reach of shops and offices. Interchange stations made it easy for people to swap between a car, Metro, buses and main line trains.
The first section of Metro opened in 1980, and most of the system was in use by 1984. It was an immediate success as people took advantage of fast, frequent transport. There were extensions to the Airport in 1991 and to Sunderland in 2002.
Electric Locomotive No. E4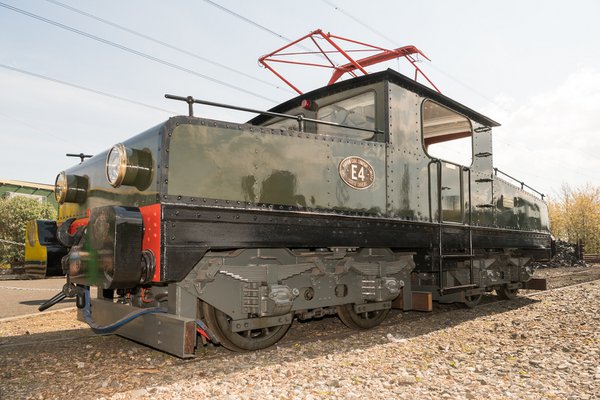 This locomotive, built in 1909 at Berlin by Siemens Schuckert, was part of a pioneering investment in the latest electric technology for coal mining by the Harton Coal Company of South Shields. The company's pits became the most up-to-date in Britain, thanks to a partnership with Siemens, a German company which had a reputation for reliable mining equipment powered by electricity.
E4 was one of nine purchased from Siemens by the company, which owned several collieries in and around South Shields. It remained in service for 73 years hauling heavy trains of coal from the pits to the river Tyne for shipment.
During its working life E4 received electricity from overhead wires, in just the same way as the Metro. Today, its power comes from a large rechargeable battery in the nearby wagon. The locomotive has four 35kW electric motors, which means that E4 is about twice as powerful as a modern family car.
Acquired by Tyne & Wear Museums in 1982, E4 has been restored to full working order and its original appearance.
Donations to the collection or bringing in items for identification
Please get in touch with us (via phone, email or letter) before bringing in your items to describe what you would like to offer, or what you need help with identifying. Send us a photograph if possible.
We'll reply letting you know if your offer is something we can accept, if we need more information, if we cannot accept your offer or to arrange a time for you to bring your item in.
There are a variety of reasons that we may not be able to take your donation. We have a Collections Development Policy that we must use when making a decision.
Please note that unless there are compelling and legitimate reasons, hazardous objects and substances will not be accepted.