Learn about 'local hero' George Stephenson and explore symbolism and clues in portraits in this hands on workshop.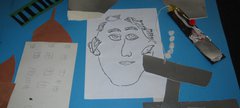 George Stephenson Portrait workshop
Learn about George Stephenson, the 'Father of the Railways', by creating a 3D portrait collage in this hands-on workshop. Children will explore symbolism and historical clues in portraits with games and activities. They will then search for evidence in the museum to create their own masterpiece of this "Local Hero" from the past.
Suitable for KS1 and KS2.
Workshop lasts up to 1.5 hours and cost £90.
Currently workshops are only available on Thursdays.