LIMITED AVAILABILITY - 4 December only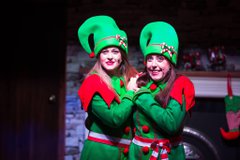 Saturday 27 November - Tuesday 21 December
Important information about The Elf Express - Update 25 October 2021
We now have only one 8-seat exclusive family compartment available and that is in Sparkle carriage on 4 December at 9.45am.
If we receive any cancellations, we will update the ticket allocation online accordingly. Please check back regularly.

-----------------------------------------------------------------------------------------------------------

New for 2021!
After running our sell-out Santa Special event for many years, we are introducing a brand new experience for 2021, with a different format, characters and stories. We hope you will be delighted with this latest adventure at Stephenson Steam Railway!
This Christmas, get on board the Elf Express at Stephenson

Join Santa and his helpers for a truly wonderful winter experience. Make this Christmas a real cracker with a trip on our Elf Express. You'll meet our Chief Elf, as well as The Man himself, before you embark on a fantastic steam* train journey. Here you'll be put through your paces to see if you can be part of Santa's crew. There'll be plenty of entertainment and photo opportunities along the way as you enjoy this truly unique Christmas adventure.
More information about the event
*Locomotive may vary according to availability
________________________________________________________________
Introducing our new seasonal event sponsor
We are excited to introduce our new seasonal event sponsor Fizzco, who are supporting our 2021 Elf Express event. As an early Christmas present to all Elf Express ticket holders, our new partner Fizzco is making a special seasonal offer. Look out for details of the offer on your e-ticket.