Choose from a selection of creative activities to build a bespoke workshop to make your visit a memorable one.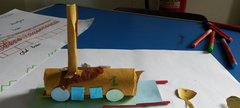 We can deliver a host of workshops and self-led activities, from tours and train building to inventing and storytelling. Pick and build a bespoke workshop for your visit. Options include creating a giant fabric 'Rocket' story train as you learn about local heroes George and Robert Stephenson, inventing a new travel machine, making a George Stephenson portrait, hunting for materials, object handling and storytelling and role play.
Suitable for EYFS, KS1 and KS2.
Workshops last up to 1.5 hours and cost £90.
Currently workshops are only available on Thursdays.