Make & Take Thursdays - all summer long
Summer crafts and heritage train rides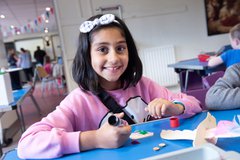 Times:
11am - 3pm
---
Price:
Donations welcome. Free entry to Museum, drop in for events
Charge for heritage train rides at:
11.30am, 12.30pm, 2pm & 3pm
Please note that heritage train rides on Thursdays are subject to volunteer crew availability.
Make Thursday a Stephenson day. Bring your youngsters down to the museum on Thursdays during the summer holidays where they can explore our wonderful collection of vintage trains. They can also try their hand at our craft activities with a different theme each week. Activities suitable for all the family.

Heritage trains departing:
11.30am, 12.30pm, 2pm & 3pm
28 July
All about Signals
Learn all about the job of a train signaller. Make your own flags and whistle and have a go at signalling your own train.
4 August
Animal Masks
Different animals live in the countryside next to our train track. Make your own animal maks of one of these animals living nearby.
11 August
Railway Puppetry
Design and create your own train driver puppet.
18 August
Make a Book
Make and decorate your own mini wildlife book, using the cover and illuminated pages of the Lindisfarne Gospels to inspire you.
25 August
Tracks Ahead!
Trains usually follow different tracks to get them to their destination. Have a go at creating and painting your own train tracks.
1 September
Rock Painting
Design and make a rock painting, inspired by the trains or nature around you.