Ghastly Ghost Stories
SOLD OUT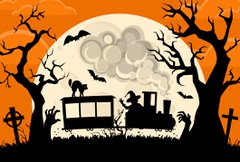 THIS EVENT IS NOW SOLD OUT
Train times for 28 October:
11.15am |12.30pm | 2pm | 3pm
Train times for 31 October:
11.15am | 12.10pm | 1.10pm (diesel) | 2pm | 3pm (steam & diesel)
Price:
£4-£16
Come dressed to spook! Tickets are for seats in a saloon carriage. Your family group will be seated together with other families in this open plan carriage. We are not asking visitors to book specific seats so that we can comply and react to any changes to government guidance.
About Ghastly Ghost Stories
THIS EVENT IS NOW SOLD OUT
New event for 2021! Grab your broomsticks as the ghouls just want to have fun.

Do you believe in ghosts? Join the Moss Troopers on a hauntingly horrid story train during October half term (Thursday and Sunday).

Shiver at the story of the Cauld Lad of Hylton, wiggle in terror at the words of the Wallsend Witches, and scream at the story of the Phantom Signalman.

Our Waggonway Tea Room will be open on Sunday, 31 October, so why not sit for a spell and enjoy a brew.