Class 555 Tyne and Wear Metro Cab
On display during the summer months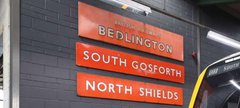 During Museum hours
Guided access will be available on selected Sundays at intervals between 11am and 3pm.

Over the next few months, we'll be displaying a full-sized replica of the new Class 555 Tyne and Wear Metro Cab in the Museum. Keep an eye on our website and social media for information about this latest acquisition and events.

Nexus, the public body which owns and manages Metro, has loaned the replica to the museum to let the public get a closer look at the new Metro train ahead of the first one arriving on Tyneside at the end of the year.
This will give visitors of all ages the chance to see inside the new Metro train's driver cab. Features include the full cab layout, the driver's seat, a dashboard, and an exterior with the iconic yellow Metro livery and destination displays.
Find out more about the new Tyne and Wear Metro fleet at https://www.nexus.org.uk/newmetrotrains